Baby Kenna-Arella & Diana Milk Recipient Story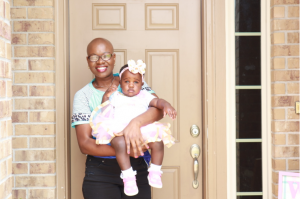 "A breast cancer diagnosis is painful. It's even worse when that happens to a woman who has an infant, yet her breasts need to be chopped off; meaning, no nursing. Such a woman gets stuck when she realizes that her infant can't feed on formula because she is allergic to an element in all kinds of formulas. That woman was me in early 2020. Yes, when the pandemic was raging too.
 Mothers' Milk Bank Austin and breast milk donors were my light when it seemed like I was surrounded by ghostly darkness. You all rescued my baby and me. Not only did you make it possible for Kenna-Arella to have quality clean milk until she turned one, you also have enabled me to undergo cancer treatment peacefully without any worries about my baby. In fact, I believe that having fed on milk from women from different diversity groups, Kenna-Arella is going to be great. 
 Your people at Mothers' Milk Bank Austin and all milk donors are life savers. This picture was of Kenna-Arella and me when she turned one. My lack of hair is a result of chemotherapy. Thank you so much!"
-Recipient Mom Diana