This Year's Theme: Claiming Our Power, Resilience, and Liberation
"Black Mamas claiming their power, resilience, and liberation is an opportunity to think about improving maternal health disparities without fear, blame, or shame. We must recognize the strengths of Black Mamas—their motherhood, scholarship, leadership, and research—if we truly hope to end the maternal health crisis."
From April 11th through April 17th, we're celebrating the fourth annual Black Maternal Health Week Campaign, founded and led by the Black Mamas Matter Alliance. A week of education and advocacy around the experiences of Black Mamas. 
Key Black Maternal Breastfeeding Facts
Only about 66% of Black infants are breastfed compared to more than 82% of White and Latinx moms. (Source:

CDC

)

Among all infants, Black infants had a significantly lower rate of breastfeeding at age 3 months (58.0%) than did White infants (72.7%); at age 6 months, the rates were 44.7% among black infants and 62.0% among White infants. (Source:

CDC

)

Hospitals in areas with higher percentages of Black residents were less likely to provide adequate breastfeeding information and support to new mothers. (Source:

CDC

)
MMBA's Desire is To Be Part of The Solution To Equity
Working in maternal and child health since we opened 20 years ago, we've seen the disparities in opportunity and outcomes along racial lines. We strongly believe that Black women need access to health care providers trained to care for their bodies, trained in antiracist practices, and able to provide care in a personal and culturally-relevant environment.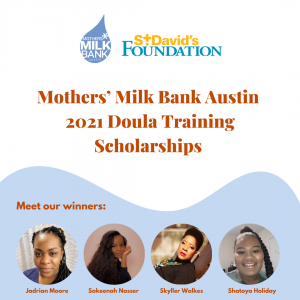 That's why early this year, we created the Breast Milk Equity Education Program to decrease health outcome disparities for black mothers and infants through breastfeeding education and support. Thanks to the support of the St. David's Foundation, we will provide scholarships to four passionate women who desire to impact black families and communities in the city of Austin by becoming certified doulas with specific emphasis on breastfeeding, and we will create a group model of sustainable community breastfeeding education.
We are committed to using our knowledge of breastfeeding and access to human milk to address health outcome disparities that are unacceptable. Until every mother can give birth in a safe space with expert medical and lactation care, and until every baby is born with the same opportunity to grow and thrive, our work and the health care community's work isn't done.
---
About Black Mamas Matter Alliance (BMMA)
Founders of the national Black Maternal Health Week, the Black Mamas Matter Alliance (BMMA) is a national network of organizations and leaders from the maternal health, human rights, and reproductive justice fields. Blackmamasmatter.org