To celebrate the second week of National Breastfeeding Month, we chat with Dr. Lakshmy Vaidyanathan. She shares how she's incorporated breastfeeding education within her community and the art of supporting mothers and their breastfeeding goals.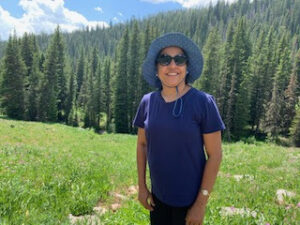 About Dr. Vaidyanathan
An experienced pediatrician, Dr. Vaidyanathan attended medical school at Calicut Medical College, University of Calicut, India and did her pediatric residency program at the Children's Hospital of Austin. She became an International Board Certified Lactation Consultant in 2013 and a Fellow of the Academy of Breastfeeding Medicine in 2017. She is the Neonatal Hospitalist for Pediatrix Medical Group, Clinical Director of Newborn Nursery at Ascension Seton Medical Center. She also holds a faculty position at UT Dell Medical School and serves on the Board of Directors of the Mothers' Milk Bank at Austin.