Julia is one of our board directors. She is a healthcare technology professional who loves travel and photography and a mother who, after going through a challenging breast pumping journey, became a human milk donor.
We hope you enjoy Julia's milk pumping story as much as we did!
—
When you're expecting a baby, you do what you can to prepare for your child's arrival. I did as much as I could to be ready for my baby, but there was one area where I was not prepared enough. I was not expecting that I would be pumping milk for my baby on the first day, the next day… actually every day for weeks and even months! My experience pumping is not common for most mothers, but for mothers whose children start out in the neonatal intensive care unit (NICU), it is more common.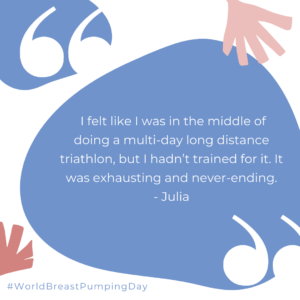 After getting settled into our hospital room together, my newborn, Jasper, began to show signs that he needed additional medical care. After wheeling Jasper out to be admitted to the NICU, the hospital staff wheeled in a hospital grade breast pump for me. Well, this definitely was not what I was expecting! New mothers are usually advised to wait until breastfeeding is well established before pumping and introducing a bottle, but in my case, I had to pump for my baby. Fortunately, I tried to be prepared ahead of time. I signed up for my hospital's breastfeeding class and pumping class. I pretty much knew most of what was in the breastfeeding class because I had been around mothers who breastfed, starting with my own mother. However, I knew very little about how pumping actually worked. I had never been around a mom who was pumping. The pumping class was informative, and my husband even attended with me.
The hospital had amazing lactation consultants who showed me how to use the pump and with that, my pumping journey began. I wish I could say that I connected to it and we all lived happily ever after, but my journey with pumping was full of struggles. I feel like I went from very little knowledge of pumping to being able to write a book about pumping.
My baby had a lot of trouble with nursing and latching. I had trouble getting milk out with my pump. This led to my milk supply being too low for what Jasper needed to survive. Thankfully, the hospital offered donor milk (from the Mothers' Milk Bank at Austin) to supplement my milk so that he could be healthy enough to leave the NICU and go home.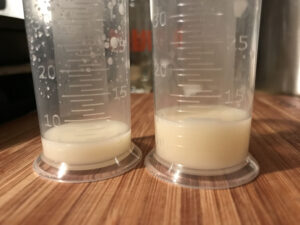 We went home, but our struggles continued. I got very little milk out from my insurance-covered breast pump, so I rented the same kind of pump that I used in the hospital. In some ways, pumping felt like a big science project to me. I would measure and record the amount of milk I pumped. Then I would try something different to see if it would increase the amount. Little by little, my supply increased. Sometimes my output for a pumping session would drop dramatically. I would look at what had changed recently and go back to what was working well before.
At two weeks post-partum, I still wasn't making enough milk and my daily output suddenly dropped by 50%. I was so stressed out and wondering if there was something wrong with me. I was trying lots of things, seeing a lactation consultant, and going in for lots of pediatric weight checks. I was pumping at least eight times a day, which was often painful and left me sore. Both my husband and I felt the experience was similar to doing an Ironman triathlon. I felt like I was in the middle of doing a multi-day long distance triathlon, but I hadn't trained for it. It was exhausting and never-ending.
At three weeks post-partum, I recalled the advice that the first three weeks of breastfeeding were the hardest. (Yes, pumping and feeding breastmilk to your baby is definitely considered "breastfeeding"!) I was ready for easier days, but not at all optimistic they were coming anytime soon. However, it was on that day that I discovered I wasn't using the proper sized flanges for me! After many trials and costly trips to the store, I finally figured out which size worked best. I figured out the best settings to use on the pump for me. None of the pumping bras I purchased worked for me, so I had to make one myself with a sports bra. There were lots of other little things that affected my supply, but these were some of the most important things to figure out. One more important consideration was that my husband was incredibly supportive and took so much time off work to help make this work. While I was pumping, he bottle-fed Jasper, soothed him, and took care of him. He also washed pump parts up to eight times a day. His support was critical for us to make it work.
I remember the day that I finally pumped enough milk for what my child needed that day, and my stress level finally decreased. (Guess what else isn't conducive to milk production? Stress!) As I said earlier, I could write a book on this topic. But we don't have room for that here, so I will jump ahead in my pumping journey and share that I eventually was able to build my milk supply into an oversupply and I had milk to freeze.
Eventually I had so much frozen milk that Jasper and I were able to donate it to the Mothers' Milk Bank at Austin. Now that is definitely a happily ever after ending!