We're honored donor Mom Ivette shared her poignant story with us.
"It is with mixed emotions that I recently dropped off my final milk donation (about 490 ounces) as my baby girl just celebrated her first birthday! I've lost count of the donations over the last year. I'm a second-time donor but was only able to donate a nominal amount the first time around with my son, as I worked full-time and traveled frequently. What was donated was left from after I quit my full-time role.
I also wanted to share how special our relationship with MMBA has been through our daughter's first year of life. Mila was born at 37 weeks and five days, a 5 lb. 3 oz tiny but mighty fighter! She was born via cesarean after a spontaneous rupture without active labor. She nursed and slept well, which afforded me the luxury to collect an abundance of milk in between feeds using a pump. I stored the milk for a "rainy day" but never had to use it until I had a massive, random hemorrhage at one month-postpartum while on a walk with my children. My husband is a family physician and was with me when the hemorrhage began, so he was able to rush me to the ER while he looked after our children. I coded but turned a corner thanks to epinephrine and several blood transfusions. (THANK YOU, BLOOD DONORS!)
The rainy-day milk was a saving grace during my harrowing time at the hospital. Mila never tolerated formula, so I hate to imagine what might have happened if the ER team hadn't acted as swiftly as they did that day. The medical team, specialists, and my OB, who came in to assist in the life-saving surgery, still cannot explain what happened. While I was extremely grateful for my fate, I was never quite able to shake how close I came to leaving my infant daughter without precious sustenance.
After my surgery, I never missed a day of pumping, just in case. For a few months, I held onto the milk in my freezer, hoarding it almost as insurance. But when it overcrowded two freezers in our garage and our daughter became increasingly intolerant of bottle feeds, I knew it was time to let it go and have faith in the future.
As a small-stature adult, I have been able to donate blood successfully only once. The other times landed me in the hospital. Knowing that blood transfusions from selfless donors are why I'm here today made my ability to donate milk all the more meaningful. I feel it is the least I can do to pay it forward. Because of the complications I had most recently postpartum, I'm unable to safely bear more children. This marks a bittersweet bookend to this chapter of my life! Thank you for everything you do and for accepting me as a donor. It has blessed me and our family in a most cathartic way.
I will continue to spread the positive word about MMBA.
I'll leave you with a photo of sweet Mila Viana on her first day and first year. It's amazing what 100% breast milk can do in 365 days."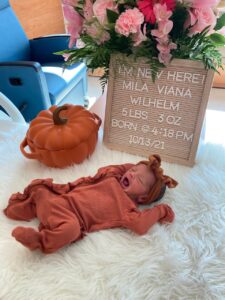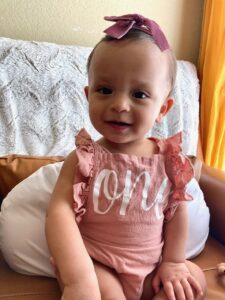 Breast milk is a miracle worker! To know more about donating it, visit milkbank.org/donate-milk or call 512-494-0800.