For our fourth interview of National Breastfeeding Month 2021, we interviewed Dr. Danielle Plattenburg Arnold about her work at Baylor, Scott & White Hospital as a pediatrician. We discuss her passion for empowering women to breastfeed, and for communities to come together to educate and support one another.
We can't thank all of our rockstar Healthcare Providers enough for their time this month to celebrate National Breastfeeding Month 2021. We hope you continue to enjoy these insightful and powerful interviews that promote the importance of breastfeeding.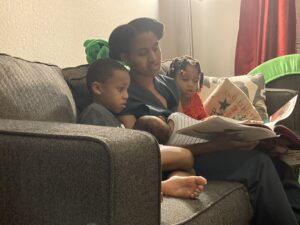 About Dr. Arnold
Dr. Arnold is a wife and mother of three, and is enjoying what will likely be the last few months of her third breastfeeding adventure! In her role as a pediatrician at Baylor Scott & White Hospital, she empowers women to breastfeed and sees babies benefit from receiving donor breast milk. She loves reading, dancing, cooking, and exploring Austin's many parks.