After a difficult delivery experience, donor mom Christine witnessed the dedication of her loved ones and decided to pay it forward.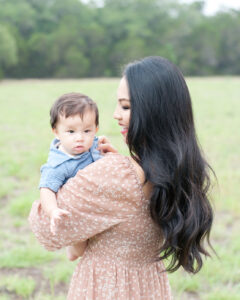 "I'm a firm believer that God works all things out for good. In every circumstance, there is purpose, goodness, and grace. On Tuesday, December 14, 2021, I would know this truth even more intimately.
For 39 weeks, I was blessed with a healthy, uncomplicated pregnancy. It was our second child, and we were so excited to welcome another baby boy into our family. But in the middle of the night on December 14, I went into labor and immediately began to seize and experience what was later diagnosed as eclampsia and HELLP syndrome. I was rushed to North Central Baptist Hospital and an emergency C-section had to be performed to deliver our son Mark, and, ultimately, save my life. I spent 36 hours in an intensive care unit, and Mark was in the neonatal intensive care unit (NICU). While I was an ICU patient, I was unable to visit my baby boy, and, therefore, could not nurse him.
My sister knew how important it was for me to be able to nurse and how critical these first couple of days are for establishing milk supply. While I was still recovering from my surgery, she and my husband would help me by hand-expressing my milk around the clock in order to stimulate milk production and send what little colostrum I was producing to the NICU to feed Mark. My mother witnessed how much work and patience were involved and later shared with me how their dedication and effort was an act of pure love. My sister's selflessness and sacrifice became the catalyst for my journey as a milk donor.
Before this experience, it hadn't occurred to me that I could donate breast milk to a milk bank, or that there was even a need for it. But when I heard the NICU nurses use the term "donor milk" without any stigma around it, a seed was planted. I was already aware of how beneficial breast milk is for a baby. I soon learned that breast milk is so important for babies in the NICU that hospitals rely on donated milk to help these fragile patients survive and thrive when their mom's milk is not available or cannot be used.
When I began having an excess supply of breast milk, I researched to see how I could donate milk and give back to the hospital that saved our lives. I found a news article that said North Central Baptist Hospital works with Mothers' Milk Bank at Austin, and I immediately contacted them to begin the screening process.
It's a blessing to produce not only enough milk for Mark, but also enough to donate. As an approved donor through MMBA, I've been able to see the purpose behind my experience. Every time I drop off milk at North Central Baptist, the hospital where I delivered Mark and that happens to be one of the donation sites in San Antonio, I am reminded of God's faithfulness and the ways He works to bring good to those who love Him. As a donor, I feel great joy to know that my milk donations are helping to save the lives of precious NICU babies.
But it goes deeper than that. I know that behind every baby who receives my donor milk, there is a family who is going through so much, emotionally and mentally, while their little one is in the NICU. My prayer each time I've poured, stored, packed, and delivered my breast milk is that, with donor milk, their baby gets closer and closer to coming home with them.
Being a donor is much more than donating milk. For me, it has brought healing, joy, and purpose. Thank you, Mothers' Milk Bank at Austin, for blessing me with the opportunity and privilege to be a donor!"